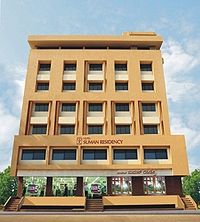 Hospitality fusions with practicality
At Hotel Suman Residency, the principle is simple – serving the best of hospitality without compromising its practicality. Affordable staying, exquisite food and a location that keeps you within reach of fun, entertainment and public utility.

Long vacations or business travels, we have packages to suit your needs and most importantly to suit your time and schedule. No hassles, no delays, no hidden stories, at Hotel Suman Residency, you are assured of impeccable service and clarity.

Housing the prestigious Suman Sagar (a vegetarian, multi-cuisine restaurant), you are just a call away from clean, hygienic and variety food delicacies.